Join the Gluten Free Sisterhood
The Ultimate Gluten Free Library
with Over 440 Easy to Cook and Delicious Recipes
Satisfy all of your cravings with the ultimate collection of gluten free tips, tricks, recipes, and training videos.
…the Backyard Summer Party with Barbecue Chicken Wings
...a Romantic Dinner of Turkey Florentine
…or a Baked Ravioli Dinner with the Family
Imagine starting your day with a Warm Banana Muffin, drinking margaritas with Cilantro Lime Fish Tacos, chowing on some Homemade Pizza or a Calzone on game night, chewing on Decadent Christmas Cookies by the fire, or having a snack of Homemade Cake Pops with the kids...
…all Gluten Free
…and all tasting SO good, no one will be able to tell the difference.
You may have celiac, be juggling a gluten free diet, or just gluten free intolerant, but that doesn't mean you can't have the breads, pastas, snacks, or any of the delicious foods that you grew up on (like REAL cinnamon rolls).
That's what the Gluten Free Sisterhood is, a massive online library of training videos, cookbooks, meal plans, and magazines.
Everything You Need to Cook Amazing Gluten Free Food Like:
These delicious Cola Burgers:
But who am I? and why should you listen to me?
Well, Hello =)
My name's Kathy.
After a year of nutrient deficiencies, near heart attacks, gag inducing potassium supplements, and red-eye hospital visits, I was happy and overjoyed, when I finally found out that I have Celiac disease.
I finally knew what was wrong and what I could do about it.
I was ready to begin my new life free of my heart beating faster than Superman flying through a wormhole and I was overjoyed not to be drinking the pure potassium supplement that tasted so bad I was considering just letting my heart run its marathons...
…until I tried the gluten free food on the market.
And the potassium didn't seem so bad...
I tried hundreds of recipes, mixes, and pre-made gluten free food during my first few years of celiac, all of them were HORRID. 
It was gluten-free hell...
Fast-forward 10+ years (and thousands of experiments in-between) I've created something that I wish had existed YEARS ago. 
It's called the Gluten Free Sisterhood.
Inside the Gluten Free Sisterhood You'll Find the Best Techniques, Tricks, and Recipes I've created after 10+ years of testing, sampling, cooking.
Imagine having access to a professionally curated library of gluten free resources that will show you amazing and simple meals you can cook for dinner TONIGHT, the exact ingredients you need to buy at the store this week, how to make the best bread in the shortest amount of time, how to create the perfect thanksgiving dinner, or even the best equipment for your kitchen.
Here's what you'll get as a member of the Gluten Free Sisterhood:
Seasonal Gluten Free Magazines:
Bread Recipes include - the Five Must Have Bread recipes for warm luscious bread, along with homemade pizza, calzones, and hamburger buns.
My Famous Five Minute Cobbler (this is my go-to desert of choice, it's easy, quick, tasty, and constantly gets the "this is gluten free??!?!?!?" reaction.
Nutella Brownies: Nutella and brownies….yummm!
The King of All Banana Breads: this was one of my first gluten-free conversion recipes. My family loves banana bread, so I've been working on this recipe for over 10 years to get it just right…
…plus: Bread Pudding, Garlic Herb Muffins, Banana Oat Muffins, Challah Bread, English Muffin Bread, European Black Bread, Maple Oat Bread, Hamburger Buns, and some scrumptious little extras like Zucchini Relish (makes a great bread/burger/hot-dog topping), Chicken and Dumplings, Sweet and Sour Chicken, Quick Cook Burritos, and of course the mother of all deserts…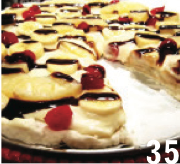 Desert Pizza
This is one that will make you change your religion (page 35). One of the top five deserts I've ever made (doesn't it just look amazing).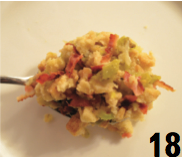 Mouth-Watering Bacon Stuffing
Bacon and stuffing, need I say more?
(page 18)
Thanksgiving Recipe Guide:
everything you need to prepare a bountiful Gluten Free Thanksgiving.
Recipes include: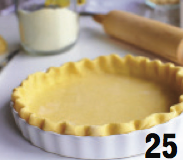 Tender Flaky Pie Crust
No one will be able to tell it's gluten free (page 25).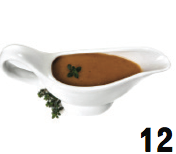 Luscious Gravy
A recipe that you can make in five minutes (page 12). I'll tell you the secret ingredient to get it just right.
...and many more including: Apple Cream Cheese Muffins, Pumpkin Streusel Mini-Breads, Three more types of Stuffing, Cranberry Appetizers, Sweet Potato Pie, and Bonus Slow-Cooker Recipe Section (for those days when cooking just seems like a chore).
and when you're done gorging yourself use your leftovers (if you have any) on the Creamy Pot-Pie Soup (page 37)
…and that's just two of the magazines. Other magazines have recipes like:
The Perfect Holiday Cookie: (Issue 3: Winter Issue)
Apricot Chicken With Broccoli Cashew Salad (Issue 6: Celebrate Fall Harvest)
Gluten-Free and Dairy-Free Whoopie cupcakes (Issue 5: Summer Grilling)
Baked Onion Rings (Issue 5: Summer Grilling)
The Perfect Christmas Morning Breakfast, complete with pancakes, waffles, and apple cider syrup (Issue 3: Winter Issue)
Refreshing Key-Lime Cupcakes (Issue 5: Summer Grilling)
Fig Oat Bars, a healthy and tasty gluten-free version of fig-newtons (Issue 6: Celebrate Fall Harvest)
Homemade Gluten Free BBQ Sauce (Issue 6: Celebrate Fall Harvest)
Fresh Berry Trifle (Issue 5: Summer Grilling)
Apple Hand Pies: Personal sized apple pies, great for kids (Issue 6: Celebrate Fall Harvest)
…oh, and did I mention that there's an issue entirely devoted to Chocolate which contains a Chocolate Chip Cookie Recipe that is the Manifestation of Nirvana
and that's just the magazines. After that we've got the weekly meal plans...
Never worry again about "what am I going to make for dinner?" My Gluten Free meal plans are easy to follow
The Recipes and instructions are dead simple, my son was making these at 8 years old.
Each plan contains a detailed shopping list, it will save you hours at the grocery store and online research. Each one is grouped by category so you aren't running all over the store because you missed something in the produce section.
Simple yummy recipes that have been pre-tested and tastiness proved by my own family (there were ever so happy to oblige).
Here's a few of the recipes from the plans:
Turkey Florentine with basmati rice and garlic toast (Meal Plan 2)

Slow Cooker Pork Roast with Gravy, baked potatoes and green beans (Meal Plan 1)
Beef Pasty's with green beans and browned butter (Meal Plan 1) 

Italian Sausage Ravioli with Cesar Salad (Meal Plan 2)
Aloha Ham and Cheese Sandwiches with cantaloupe (Meal Plan 4)
Cilantro Lime Fish Tacos with black bean & rice (Meal Plan 5)
Kung Pao Chicken with rice (Meal Plan 5)
Southwest Shredded Beef with spinach jicama salad (Meal Plan 7)
Finally we finish out with a host of Gluten Free Cookbooks and Videos

The Ultimate Chicken Casserole Cookbook: crank out this southern delectable in just a few minutes using only four ingredients, includes tons of different casserole recipes, cooking tips, and a guide on how to pick the perfect chicken.
Gluten Free Slow-Cooking: if I could only own two things in my kitchen it would be a knife and a slow-cooker (maybe a fork). Slow-cooking is easy, simple, and is the ultimate "set it and forget it" of cooking. The more than 30 recipes in this book take only minutes to prepare in the morning, and you'll have dinner ready when you come home.
Healthy Gluten-Free Pasta Cookbook: If you're Italian, or ever spent any amount of time with them, then you understand the need for pasta. Homemade pasta dishes can be a challenge if you're gluten free (that gluten free pasta can be hard to cook!) but this cookbook demystifies everything about the Gluten-free pasta making process and is packed with yummy recipes that would make Grandma proud!
How-To for Gluten Free Mini Cake Donuts: a cooking video all about making mini-cake donuts, can easily be converted to cake pops (like the ones at Starbucks).
…and many more videos including: Gluten Free Banana Muffins, gluten free dishes using apples, cupcake decorating (complete with some adorable Halloween ideas), gluten free diets, and more being added every month.
Other bonus cookbooks like: a gluten free for Kids cookbook (for training the little ones in the cooking arts early on), Halloween decorating, a guide for nut milks, and new content monthly.
If you've been looking for great gluten free recipes and are sick & tired of all the horrid food that's being served up with a silver spoon.
Then it's time to join today,
For just $1 your first month, then $6.95 a month after that, you're going to be getting access to EVERYTHING you see above, plus every new edition as soon as it comes out.
This fantastic library of seasonal magazines, weekly meal-plans, cookbooks, and cooking videos. Is just what you need to make living gluten free a breeze.
There's over 440 recipes in this…and each and every one has been critically family tested for maximum quality.
(that's my fancy way of saying they taste gooooooooood)
Sign-up for your membership today.
This website will give you 3x the information you can get from a normal cookbook, at half the cost.
Grab your membership today:
-Kathy
p.s. I had one rough time discovering all of this information, you don't have to do that...
…you don't have to destroy your children's taste-buds trying dozens of recipes only to get 3-4 that are edible
…you don't have to spend hundreds of dollars on gluten free flours that taste like sawdust
…you don't have to struggle through product after product hoping to find something, ANYTHING, that won't clog your throat on the way down.
I want you to be able to try out the Gluten Free Sister so you can see how amazing all these recipes are, so I'm giving you a special offer to join today for $1 (that's right, a whole buck!). If you decide you love it and could never do without your own personal library of all things gluten free, then keep the membership for only $7 a month after that, otherwise you can cancel at any time. It will only cost you a $1 to check it out.

Click on the button below
to give yourself unlimited access to the Gluten Free Sisterhood: